Used Pallets for Sale in Melbourne
Smart Pallets is one of the largest pallet suppliers in Melbourne with state-of-the-art recycling and manufacturing facilities. We have affordable custom-made, reconditioned and recycled second hand pallets for sale that are manufactured or repaired onsite. We use sustainably harvested and recycled timbers.
Our timber waste collection services are available as a stand alone service or in conjunction with your pallet deliveries. To save time and money, we are able to offer more affordable rates to customers that combine pallet deliveries with timber waste collections. Contact us if you want to save time, money and help keep tonnes of waste out of landfill.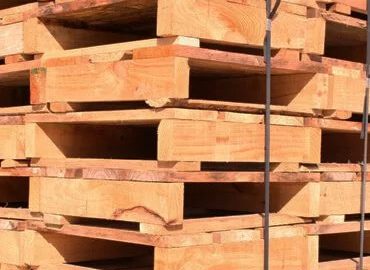 view Pallets
Custom Made Pallets
Smart Pallets can manufacture custom-made pallets or other timber packaging products to your specification, from recycled timbers, sustainably harvested pine or a combination of both.
Why Choose Us?
We pride ourselves on being leading pallet suppliers in Melbourne who provide first-rate pallet recycling and manufacturing services for the manufacturing, retail and construction sectors. We provide Melbourne based organisations in these industries with our timber waste and pallet collection service and have both new and used pallets for sale, as well as crates.
We are also available to custom manufacture pallets as per your specific requirements, by using sustainably collected plantation pine, recycled timber, or a combination of both.
Over 2000 organisations have come to us to ensure their services are environmentally friendly and save them money. This is because:
Our recycled second hand pallets for sale cost far less than new pallets do
The cost of our timber waste collection service is only about half as much as transporting timber waste to a landfill
We can minimise your freight costs by back-loading your timber waste as we deliver your order of pallets
Smart Pallets is the best choice for pallet recycling services as well as high-quality second hand pallets for sale. We offer exceptional prices, outstanding customer service and swift delivery on our:
Shipping pallets for sale
Plastic pallets for sale
Used wooden pallets for sale
EPAL pallets for sale
Find Used Pallets for Sale Today
If you've been wondering "are there any pallet suppliers in Melbourne who have durable pallets for sale near me?" get in touch with Smart Pallets today. We can help you find the used pallets that will best meet your needs. Find Used Pallets for Sale Today